Training Goal
The goal of the Training on Inclusion, Diversity and Equity is to provide a means for employees of community-based organizations (CBOs) to explore their own biases; expand their knowledge of inclusion, diversity, and equity concepts; and increase emotional intelligence regarding intersecting cultural and social identities among those with intellectual and developmental disabilities.
Roadmap: Where we're going
To get the best experience out of this curriculum, we suggest completing the sessions in order. However, you are more than welcome to complete any of them individually, as you choose.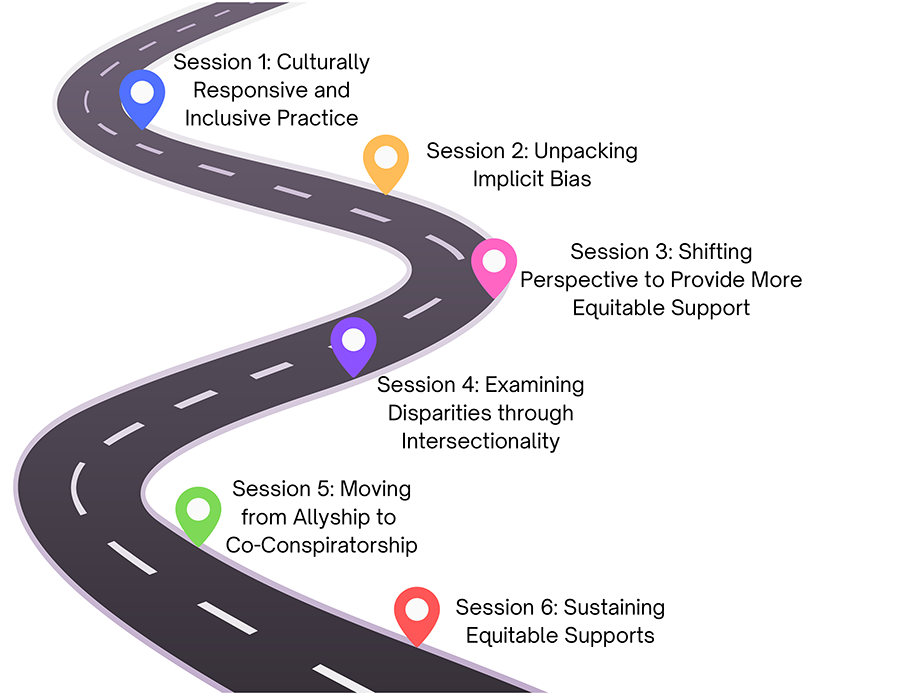 Session 1
Culturally Responsive and Inclusive Practice
Session 2
Unpacking
Implicit Bias
Session 3
Shifting Perspective to Provide More Equitable Support
Session 4
Examining Disparities
through Intersectionality
Session 5
Moving From Alliship to Co-Conspiratorship
Session 6
Sustaining Equitable Supports
Tessa Boutwell, M.Ed
TIDE Training Content Creator and Facilitator

Tessa has over 10 years of educational experience as a classroom teacher, instructional coach, literacy consultant, and curriculum developer in both public and private educational settings. She earned a B.S. and M.S. in Education at Old Dominion University and later received her M.Ed from University of Virginia in Educational Psychology and Developmental Science.
As the Professional Learning Facilitator in the VCU Office of Strategic Engagement, Tessa supports and coordinates programs that enrich teacher preparedness and proficiency in the community. She works closely to maintain the Career Switcher program for transitioning prospective teachers into urban and high-needs settings and conducts workshops and training seminars that support culturally relevant and responsive practices for educators. Tessa is passionate about supporting teachers, instructional leaders, and school systems to ensure that all learners are valued and engaged in their learning experiences.